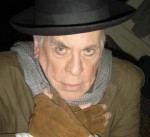 William Dennis Hunt portrayed Evan Rendell in Dr. Giggles.
Significant roles
Edit
Emperor Wang the Perverted in Flesh Gordon (1974)
Evil Presence in Flesh Gordon Meets the Cosmic Cheerleaders (1989)
Mr. Briggs in Critters 3 (1991)
Evan Rendell in Dr. Giggles (1992)
Centauri Noble in Babylon 5 (1995)
Huraga in Star Trek: Deep Space Nine (1995)
Mr. Draper in Frasier (1998)
Boris Lermontov in Sabrina the Teenage Witch (1999)
Teiresias in The Bacchae (2002)
Judge Edgar Byrnes in NYPD Blue (2003)
Committee Member in Evan Almighty (2007)
Walter in Jason's Big Problem (2009)
Please add some quotes from this performer about their work in Dark Horse movies!
Ad blocker interference detected!
Wikia is a free-to-use site that makes money from advertising. We have a modified experience for viewers using ad blockers

Wikia is not accessible if you've made further modifications. Remove the custom ad blocker rule(s) and the page will load as expected.