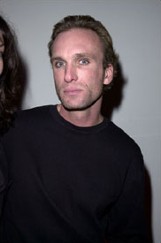 Peter Greene portrayed Dorian Tyrell in The Mask.
Significant roles
Edit
Jimmy in Laws of Gravity (1992)
Sykes in Judgement Night (1993)
Zed in Pulp Fiction (1994)
Dorian Tyrell in The Mask (1994)
Adam in Bang (1995)
Detective John Finnigan in Kiss & Tell (1996)
Teddy in Do Me a Favor (1997)
Deacon in Blue Streak (1999)
Vern in Nobody's Baby (2001)
Norm Olsen in Black Cloud (2004)
Bert in Brothers in Arms (2005)
Jack Baldwin in End Game (2006)
John Lowe in Lesser of Three Evils (2007)
Derek 'Dokey' Farrell in The Black Donnellys (2007)
Jimmy McManus in Life on Mars (2009)
Swinnert in Earthling (2010)
Sonny Coogan in Once Fallen (2010)
Please add some quotes from this performer about their work in Dark Horse movies!
Ad blocker interference detected!
Wikia is a free-to-use site that makes money from advertising. We have a modified experience for viewers using ad blockers

Wikia is not accessible if you've made further modifications. Remove the custom ad blocker rule(s) and the page will load as expected.