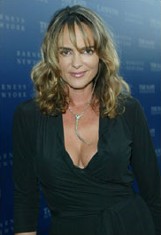 Michelle Johnson portrayed Tamara in Dr. Giggles.
Significant roles
Edit
Jennifer Lyons in Blame It on Rio (1984)
Heather DiStefano in Gung Ho (1986)
China in Waxwork (1988)
Ricki in Driving Me Crazy (1991)
Tamara in Dr. Giggles (1992)
Danielle Wilde/Chelsea Savage in Body Shot (1994)
Sarah in Specimin (1996)
Vicky Mayerson in Revenge (1999)
Patty in Mickey (2004)
Please add some quotes from this performer about their work in Dark Horse movies!
Ad blocker interference detected!
Wikia is a free-to-use site that makes money from advertising. We have a modified experience for viewers using ad blockers

Wikia is not accessible if you've made further modifications. Remove the custom ad blocker rule(s) and the page will load as expected.