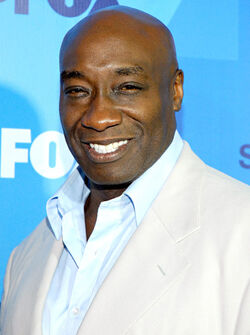 The late Michael Clarke Duncan portrayed Manute in Sin City.
Significant roles
Edit
Bear in Armageddon (1998)
John Coffey in The Green Mile (1999)
Franklin "Frankie Figs" Figueroa in The Whole Nine Yards (2000)
Attar in Planet of the Apes (2001)
Balthazar in The Scorpion King (2002)
Wilson Fisk/Kingpin in Daredevil (2003)
Tug in Brother Bear (2003)
Future Wade in Kim Possible: A Sitch in Time (2003)
Mr. Phipps in D.E.B.S. (2004)
Lucius Washington in Talladega Nights: The Ballad of Ricky Bobby (2006)
The General in One Way (2006)
Mort, Phil Henderson and Patrolman in Slipstream (2007)
Spinks in American Crude (2008)
Balrog in Street Fighter: The Legend of Chun-Li (2009)
Kilowog in Green Lantern (2011)
Please add some quotes from this performer about their work in Dark Horse movies!
Ad blocker interference detected!
Wikia is a free-to-use site that makes money from advertising. We have a modified experience for viewers using ad blockers

Wikia is not accessible if you've made further modifications. Remove the custom ad blocker rule(s) and the page will load as expected.