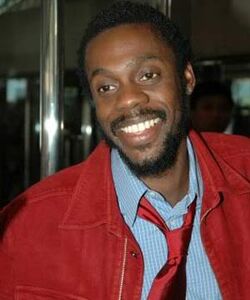 Doug E. Doug portrayed Trotter in Dr. Giggles.
Significant roles
Edit
Jimmy the Busboy in Mo' Better Blues (1990)
Willie Stevens in Hangin' with the Homeboys (1991)
Popsicle in Class Act (1992)
Trotter in Dr. Giggles (1992)
Sanka Coffie in Cool Runnings (1993)
Douglas St. Martin in Where I Live (1993)
Harvey Ashford in Operation Dumbo Drop (1995)
Griffin Vesey in Cosby (1996-2000)
Zeke in That Darn Cat (1997)
James in Citizen James (2000)
Harlan Griffith in Eight Legged Freaks (2002)
Bernie (voice) in Shark Tale (2004)
Toby Janes in Conviction (2006)
Leonard Garvey in Snowmen (2010)
Please add some quotes from this performer about their work in Dark Horse movies!
Ad blocker interference detected!
Wikia is a free-to-use site that makes money from advertising. We have a modified experience for viewers using ad blockers

Wikia is not accessible if you've made further modifications. Remove the custom ad blocker rule(s) and the page will load as expected.